The Red Herring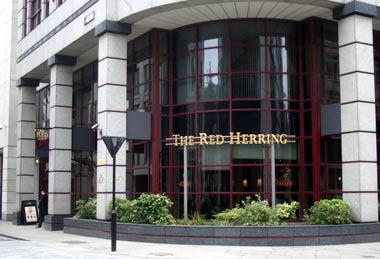 The Red Herring, 49 Gresham St. EC2V 7ET
Telephone : 020 7606 0399

Reviewed : June 2008

Facilities : Fruit Machine

Above ground, which is always a bonus with City pubs, The Red Herring is a reasonable venue. If you like your cask ale served as it should then the Red Herring hold the cask-marque which should mean excellent beer. The occasions I have visited that has been true.

Samuel Pepys enjoyed red herrings for his breakfast on the 28th February 1659 while he waiting for his boot heel to be mended, so think of Sam when you drink in The Red Herring.


Index | links | Join
Pub List | Find a Pub | Pub News | Best Pubs | The City | Boundary | Updates | About | Contact