The Punch Tavern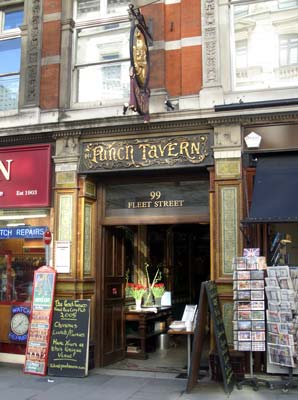 The Punch Tavern, 99 Fleet Street, EC4Y 1DE
Overall Rating : ***

*

*
Telephone : 020 7353 6658

Reviewed : August 2007

Pub Website : PunchTavern

The Punch Tavern in Fleet Street offers something which is unique to the City. Not the old boozer you might imagine from the pub which served beer to the initial founders of the now demised Punch magazine back in the 1840's. The blend of a Victorian foundation layered with a pastel modern décor really does create something uniquely lovely. The closest you could find to match the Punch Tavern would be in Shoreditch. We visited on a Wednesday hoping for a mid week 'busy' but not too 'busy' and it was spot on. The atmosphere was warm and friendly the service from the small bar was excellent. The menu offered a wide range and some usual options, we opted for the Asian and Meze platters and both were fine eating, washed down with Theakstons Best, a fine beer.The mix of clientele in the Punch definitely is unique to the City and well worth a visit.


Index | links | Join
Pub List | Find a Pub | Pub News | Best Pubs | The City | Boundary | Updates | About | Contact