Departure Bar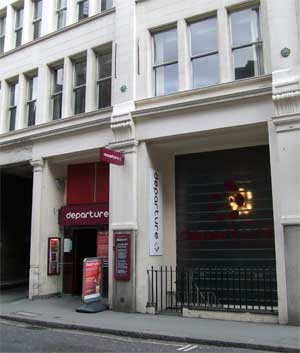 Venue : Departure Bar, 2 Crutched Friars, Aldgate, London, EC3N 2HT
Reviewed : May-2007
Telephone :02074807550

Brewery :

Pub Website : http://www.departurebar.co.uk
Facilities : Pool

A very modern style downstairs bar venue, with music in the evenings and a pool table to keep you entertained. I popped along to see the Departure Bar early on a Thursday evening, located on the East side of the City close to the Minories and Aldgate. The decor is red, red and yep you guessed it red (with a little brown) it was already starting to fill with early bird drinkers since prices are held £2 for there 6-8pm happy hour. Service was reasonable although a little slow for that time of evening. On tap are Fosters, Bud, Stella and Guinness you can get bottled Bishops Finger and they do have a draught house beer Departure, but I don't have that, maybe next time.


Index | links | Join
Pub List | Find a Pub | Pub News | Best Pubs | The City | Boundary | Updates | About | Contact