Deacons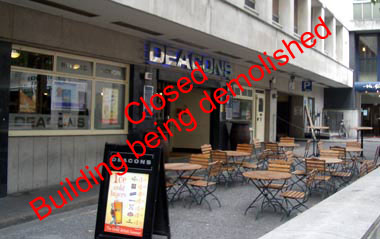 Deacons 6 Walbrook, EC4N 8DQ
Overall Rating : **

*

**
Telephone : 020 7653 9911

Reviewed : 26th Sept 2005

Facilities : Outside area; Fruit Machines; Downstairs Pool tables, Golf machine, TV screens

Advertised as a Sports Bar because of it's large TV coverage I guess, there is a downstairs with pool tables and fruit machines but it's pretty poor, service can be very slow with usually only one member of staff on at lunchtimes. Upstairs is a bit better with natural light to brighten things up, but don't get too carried away, service though is better. Food is nothing special but okay, burgers etc.
By far the best side of this pub is the fact the two screens point towards the street, things get very packed when a sporting occasion is on, making for an excellent atmosphere.

         


Index | links | Join
Pub List | Find a Pub | Pub News | Best Pubs | The City | Boundary | Updates | About | Contact