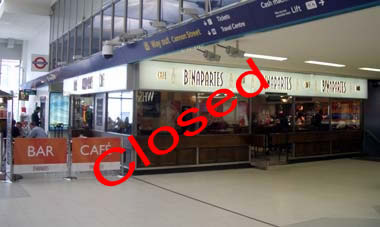 Bonapartes, Cannon Street Station, Cannon Street EC4N 6AP
Overall Rating : *****
Telephone : 020 7626 2621

Reviewed : 20th Sept 2005

Facilities : Outside area; 4 Fruit Machines

On the main concourse of Cannon Street Station this is a commuters pub, someone in need of a quick beer before heading off, or killing time for the train. A pretty easy pub to meet in. It is supprisingly good, an 'outside' seating area (you're still in the Station) provided. Inside is a small bar and more seating, service is good and it's a venue which doesn't get packed. All in all about what you would expect from a Station pub.


Index | links | Join
Pub List | Find a Pub | Pub News | Best Pubs | The City | Boundary | Updates | About | Contact